How to Book an Appointment
Our telephone system is making it even easier for you to contact us. We look forward to hearing from you.
100% of patients in a recent survey said they were extremely likely or very likely to recommend Giffords. We have received other excellent feedback on the improved access and quality of care received.
Telephone system menu:
Tel: 01225 896630
Option 1: Appointments, Results, Home Visits and General Enquires
Option 2: Medical Secretaries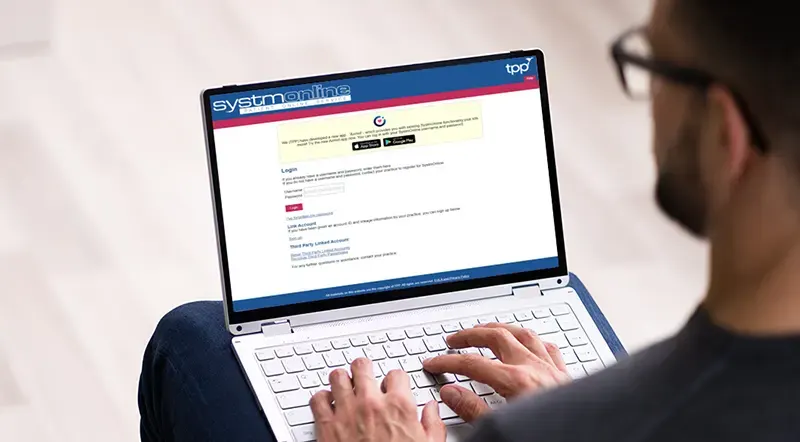 Book Online
It is quicker and easier to book appointments - such a cervical smear, blood tests (only if requested by a clinician) and some vaccinations - via our online service SystemOnline. Simply log in and select an option.
To use the SystmOnline service, you will need to request a SystmOnline username and password. You cannot register for this service online because the practice needs to verify your identity.
Once you have registered at the practice, we will give you a SystmOnline username and password. If we hold an email address for you that has been verified as being correct (this means we have sent an email to you in the past and you have replied to it), we will also send you a confirmation email containing your SystmOnline username and the SystmOnline website address.
How to sign-up
For more information, please contact reception or next time you visit the surgery, bring with you a piece of photo ID (passport, driving licence) and something with your address on like a bank statement but not a gas or electric bill. If you don't have these, please talk to us and we will help you sign-up
Application for Online Services
When you complete your application form please bring it in with your two forms of ID to reception at the surgery for it to be processed. Please be aware that the approval for access may take up to 14 working days.
What happens on the day?
Patient Check In System
When you arrive for your appointment please check in using one of the touch screens to the right in the foyer. This allows the doctor or nurse to know you are waiting to see them.
Patient Call System
The practice also has a patient call system that the clinician will occasionally use to call you to their room for your appointment. Alternatively, the clinician will come into the waiting area and call you in from there.
The benefits for patients include:
Extended Access to medical advice on the day and rapid resolution of medical problems – From the 1st October 2022 we will be offering online appointments for direct booking with a clinician from 6.30pm till 8pm Monday to Friday and Saturday clinics – please not that not all appointments will be at the practice but within the wider Wiltshire area.
Choice of health care practitioner - We offer a range of specialised clinicians including GPs, advanced nurse practitioners, mental health professionals,  a contraceptive and menopause specialist, a diabetic specialist and  a well-established 'care of older people' team and nursing home clinicians, Paramedics, Social Prescribers, Clinical Pharmacists, Wellbeing Coaches and much more, We encourage continuity with your clinician during an episode of care, as this improves medical outcomes and satisfaction.
Quality. We try to make visits to the surgery as productive as possible, with blood tests and investigations on site on the day, if available. Clinicians have access to advice from secondary care consultants via direct phone links, which has improved primary and secondary care interaction.
Community integration the MOPT (Melksham Older Peoples' Team) and Nursing Home Team, operate from Giffords Surgery and offer a range of medical services in house and in the community for our older patients. They liaise with social services and district nursing teams providing a highly acclaimed service.
The benefits to the practice include:
Better patient satisfaction. Our patient feedback has improved dramatically.
Fewer non-attended appointments – previously up to 100 per month.
Better team working and integration of services.
Appropriate use of resources.
Why does the Care Navigator ask me for some idea of the problem?
The clinicians at Giffords Surgery have provided the reception staff with training in regard to certain red flag symptoms that need immediate attention and also training in who the most appropriate person is to deal with your problem, which could be a wide team of clinicians featuring, GPs, Advanced Nurse Practitioners, Paramedics, Nurses, Clinical Pharmacists, Social Prescribers, Mental Health Nurse, Lifestyle Coaches and more. This enables the reception staff to direct you to the most appropriate person.
The Clinicians have asked that the care navigators ask for an idea of the problem, they do not need a lot of detail just a brief description. All staff are bound by patient confidentiality as part of their employment; therefore your information and discussions with the staff will be dealt in a professional and confidential manner.
Providing this information will ensure that if another member of the team can help you with your problem, such as prescriptions, referrals, sickness certificate etc. These matters do not necessarily need a clinician to process them initially and the practice team can generally sort these problems out for you.
It also means that the clinician has an idea of the problem prior to you being consulted and gives them an opportunity to review the relevant areas of your previous medical records. In addition to this it allows us to ensure that you have continuity of care, so that you are seen where possible with the clinician that consulted you last time, or your usual GP.
Preparing for your appointment
It is helpful for you to prepare for your appointment with one of clinicians  from our Multidisciplinary Team team a by writing down as an aide memoir for yourself the following information:
For information on self-care and how to get the most out of your appointment please visit Self Care Forum.
We use cookies to help provide you with the best possible online experience.
By using this site, you agree that we may store and access cookies on your device. Cookie policy. Cookie settings.
Functional Cookies
Functional Cookies are enabled by default at all times so that we can save your preferences for cookie settings and ensure site works and delivers best experience.
3rd Party Cookies
This website uses Google Analytics to collect anonymous information such as the number of visitors to the site, and the most popular pages.
Keeping this cookie enabled helps us to improve our website.